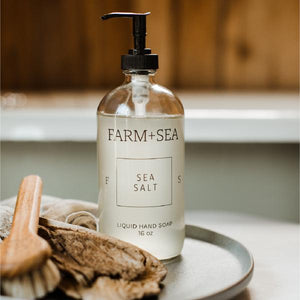 With all the extra hand washing (were we not sanitary before?) we are doing these days, we have fallen in love with this gentle, plant-based hand soap which is free of harsh ingredients that tend to dry out your skin when washing incessantly (or is that just us?). Gently scented by the fabulous Farm + Sea with your favorite fragrance blends. 
Free of sulfates, parabens and phthalates. Gluten-free, cruelty free, and vegan. 
Available in four scents:
Neroli (our favorite) - a happy, cheery blend of white citrus. An instant mood-lifter!
Beach Girl (customer favorite) - a true beach day scent: think suntan oil and sun-kissed skin.
Lavender & Coconut - Subtle lavender combines with creamy coconut into a relaxing scent.
Sea Salt - A clean, unisex fragrance that combines the scent of a salty ocean breeze with hints of cucumber and musk.
Net weight 16 oz.